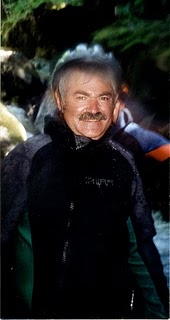 Mrs. Liubov Ilinskaya
, born October 3, 1958, St. Petersburg, Russia; a Russian citizen residing in Bonn, Germany.
Ilinskaya presents facts of fraudulent insolvency over which she intends to file a complaint.
I - THE FACTS
Ilinskaya contracted marriage October 9, 1979 with
Dimitrios Skigin
.
Two sons were born from this union:
- Mikhail, born March 18, 1980
- Yevgeny, born February 13, 1984
The Skigin/Ilinskaya marriage was dissolved on June 12, 1990.
In accordance with the regulations of divorce in Russia, Ilinskaya entered the District Court Petrogradski St. Petertsburg to demand alimony from Dimitrios Skigin for the maintenance of their two children.
The District Court of St. Petersburg on June 29, 1995 ordered Dimitrios Skigin to pay child support equal to one third of his revenues in favor of Ilinskaya to maintain their two children until their majority.
Dimitrios Skigin died in Saint Jean Cap Ferrat, France, on May 23, 2003, without ever paying any alimony to Ilinskaya.
The ruling by the District Court of St. Petersburg was confirmed by the Tribunal de Grande Instance, Nice, France, dated April 2, 2003, which declared it
exequatur
, rendering the Russian ruling enforceable in France.
Following his divorce from Liubov Ilinskaya, Dimitrios Skigin remarried
Albina Baltina Skigin
, who he divorced in 2001. His daughter
Polina Skigin
was born of this union.
After the divorce, Dimitrios Skigin married his third wife
Evgenia Krilov
a few days before dying in May 2003. From that union was born
David Skigin
.
II - ORGANIZATION OF THE ESTATE OF DIMITRIOS SKIGIN
After the death of Skigin, the conditions of his estate were held by Albina Baltina and the applicant's son, who prevented payment of amounts owed under the Child Support ordered by the Court of St. Petersburg.
Most of the conditions and operations of the estate of Dimitrios Skigin takes place in Switzerland or Liechtenstein, given the measures Skigin had taken before his death, so that his estate be held in these countries, even though kigin was resident in France.
This was partly organized so that the applicant would be unable to assert her rights.
III - INTEREST AND CLAIM OF LIUBOV ILINSKAYA
Information and evidence available to Liubov Ilinskaya gives her reason to believe that she is a creditor of large sums in respect of Dimitrios Skigin or his heirs.
Albina Baltina Skigin and Yevgeny and Mikhail Skigin have benefitted unconditionally from the estate of Dimitrios Skigin.
The evidence in possession of Liubov Ilinskaya reveals that Skigin at the time of his death had amassed a fortune of approximately # 600 000 000, given the assets he owned in different countries and different companies and entities.
Those handling the estate of Dimitrios Skigin have attempted to concealment assets and income, imainly for tax reasons, but also to avoid paying any money for Mrs. Liubov Ilinskaya.
Mikhail Skigin and his brother Evgeny Skigin each receive the sum of U.S. $ 5,000,000 per year.
Other assets remain the property of Mikhail Skigin or his heirs:
- Villa in Saint Jean Cap Ferrat - 11 Avenue de la Corniche - valued at # 20,000,000
- Apartment in NICE, owned by SCI GAMMA - an approximate value of 3 000 000 #
- Boat called "Princess Pauline of London" with a value of about 1 000 000 #
- Boat called "Sweet Doll" held by the company TENTH PLANET LIMITED B4 with an approximate value of 24 000 000 #
In addition, Dimitrios Skigin received at the time of his death significant revenue from its oil business and through companies he owned.
Among the galaxy of companies should be mentioned in particular:
-
PETRORUSS INC.
, an oil company based in MONACO
-
SOTRAMA
, a shipping company in MONACO
-
HORIZON INTERNATIONAL TRADING AG
based in Vaduz.
Yevgeny and Mikhail Skigin, and Albina BALTINA Skigin, are trying to conceal the exact amount of income and resources of Mr. Skigin, at least during the period in which he was liable for alimony.
Concealment of assets has taken place through the complicity of
Graham Smith
, Horizon, Industriestrasse 105, 9491 Ruggell, Liechtenstein.