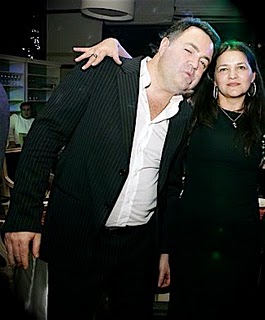 Albina Baltina-SKIGIN
, born November 1st, 1967 in Saint Petersburg, Russia, resident at 24-29 Boulevard Princesse Grace, Monte Carlo.
Dimitrios SKIGIN
divorced Albina, his second wife, in 2001. They have a daughter, Polina. He replaced Albina with 18 year-old Evgenya KIRILOVA, who married SKIGIN in Cap Ferrat in May 2005 on his deathbed.
SKIGIN's first wife,
Liubov ILINSKAIA
, is suing Albina in a French court in Nice to retain assets already seized.
A hearing is scheduled for the 15th of November at 9 a.m. in Tribunal de Grande Instance of NICE.
Case # 10-3063.
This on-going case threatens to expose all the machinations of the

SKIGIN/SOTRAMA

money-laundering enterprise in Monaco, along with all assets acquired with laundered funds.

The defendants in this action include Dimitrios SKIGIN's sons,
Mikhail and Evgeny SKIGIN
.
PHOTO:
Vladimir SKIGIN
, brother of Dimitrios and beneficiary of money laundered by
SOTRAMA S.A.M
. in Monaco, and Albina Baltina-SKIGIN.
(Vlad is reported to be shopping for a new home in Monte Carlo.)