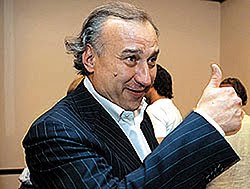 Meet
Alexey Fedorichev
, privileged resident of Monaco since 1996. His company,
Fedcominvest
, is based in Monaco and sponsors Monaco sporting events.
From Fedorichev's Monaco police file:
1976: two years in prison for speculation.
1980: four years in prison for extortion.
1984: one year in prison for fraud.
More recently, under suspicion of laundering money, connected at various times to N'Drangheta (Italian mafia), the Ukrainian mafia, and the Russian mafia.