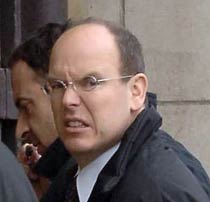 UNITED STATES DISTRICT COURT
CENTRAL DISTRICT OF CALIFORNIA
ROBERT ERINGER
, an individual, Plaintiff,
vs.
PRINCIPALITY OF MONACO
, Defendant.
Case No.: 2:10-cv-01803-GAF-RC
NOTICE OF DEPOSITION OF
PRINCE ALBERT II OF MONACO
(RULE 30)
TO DEFENDANT PRINCIPALITY OF MONACO AND TO ITS ATTORNEYS OF RECORD:
NOTICE IS HEREBY GIVEN that, pursuant to Federal Rules of Civil Procedure 30, Plaintiff will take the deposition of PRINCE ALBERT II OF MONACO on July 12, 2010, at 9:30 a.m. at the Santa Barbara College of Law, located at 20 E. Victoria Street, Santa Barbara, California 93101. The deposition will be recorded stenographically and by videotape.
The matters for examination will include (1) Robert Eringer's activities on behalf of the Principality of Monaco and Prince Albert II, (2) facts and circumstances surrounding his employment contract, (3) the duties performed by the Mr. Eringer during the course of his employment, (4) documents attached to plaintiff's requests for admission served on defendant, (5) documents produced pursuant to plaintiff's document demand served on defendant.
DATED: June 14, 2010
RICKS LAW