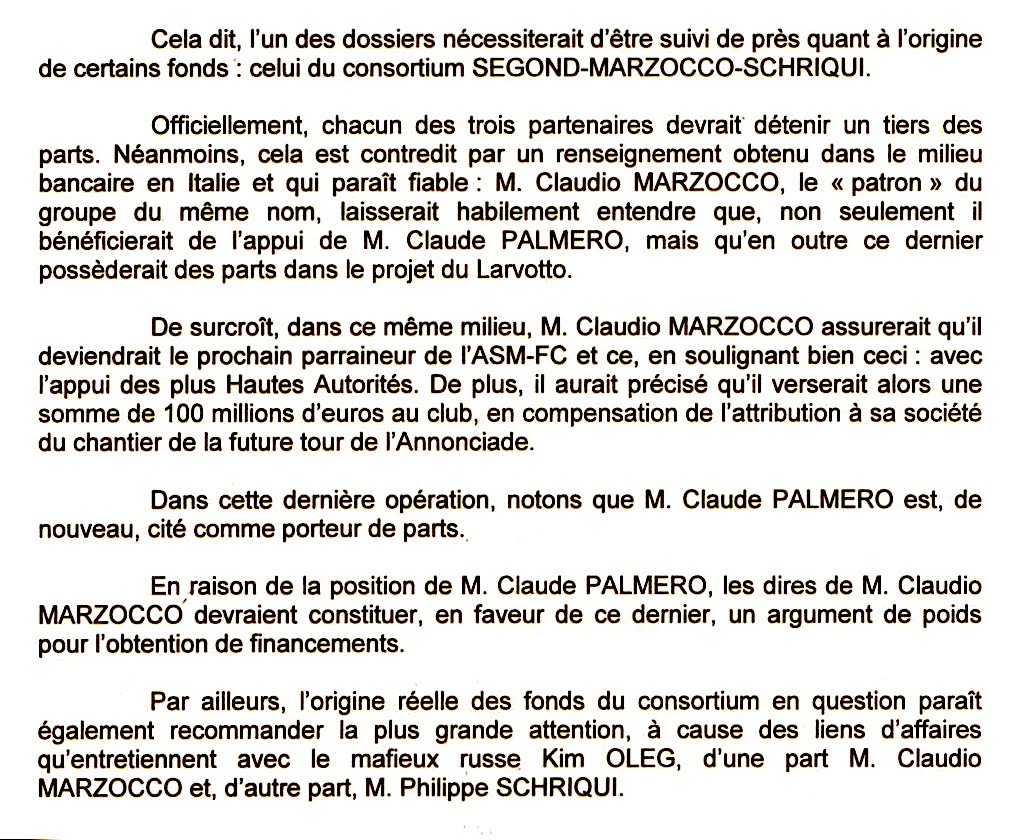 Early on, Monaco's police department decided to closely monitor the MARZOCCO-SCHRIQUI consortium, especially its sources of funding.
Officially, both
Claudio MARZOCCO
and
Philippe SCHRIQUI
held a one-third interest in their consortium of investors.
But police had reason to believe these Monaco-based businessmen had spread the wealth--to ensure an ace up their sleeve:
That "ace" was
Claude PALMERO
, the Chief of Administration at
Palais de Monaco
and personal accountant to
Prince Albert II of Monaco
.
Palmero, the police learned, was a "unitholder" in the Marzocco-Schriqui consortium.
Which is another way of saying Palmero had accepted a silent stake in exchange for influence.
So: The Marzocco-Schriqui consortium ran an
agent of influence
inside the Palace to manipulate (or so they believed) the decision-making of the sovereign prince to their favor.
Palmero held of position of extreme trust and should have been 100 percent loyal to Albert.
Instead, in a clear conflict of interest, Palmero operated secretly, in partnership with private interests, to enrich himself.
And that was not all:
Marzocco, in his dealings with
VINCI
, a large French construction company, had retained a lawyer.
Not just any lawyer.

Thierry LACOSTE

, then (and now) Prince Albert's personal lawyer.
When the Marzocco-Schriqui consortium got ruled out of the final round, sore losers Palmero and Lacoste convinced their boss, the Prince, from going forward with the Larvotto extension.
A Palace insider told us later: "They thought they may get another chance if the Larvotto extension is ever resurrected."
But with the Larvotto project terminated, Prince Albert was ripe to be manipulated by his closest advisers into creating "alternative" space.
What kind of alternative?
A forty-nine-story skyscraper called Odeon Tower, now under construction.
(Since the late 1980s,
Prince Rainier III
had banned the building of high-rises. He favored land reclamation projects.)
So who got the contract to construct what will be the tallest building in Monaco?
One guess.
Yep: Marzocco and VINCI, with Lacoste on retainer.
Monegasques should now ask: Does Palace bean-counter Claude Palmero own a secret stake in Tour Odeon? And what else has the dirty duo--Palmero & Lacoste--manipulated Albert into approving?
But just when you thought it could not get any worse:
At the beginning of this post we mentioned that Monaco's police were suspicious of the Marzocco-Schriqui funding.
Question:
Why were they suspicious?
Answer:
Because of Claudio Marzocco and Philippe Schriqui's business ties to a local Russian mafia figure.
(Click to enlarge the image of an official police document.)
If Prince Albert possessed even an ounce of integrity, he would launch an official investigation into widespread corruption, and demand the immediate resignations of Claude Palmero and Thierry Lacoste.
Coming Next: Oleg Davidovic KIM, the Russian mafia figure tied to Marzocco and Schriqui.