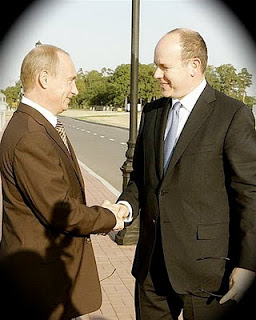 Two years ago, the (UK) Sunday Times reported the acceptance by Prince Albert II of Monaco of a three-bedroom "dacha" from Russia.
It also reported Vladimir PUTIN's thanks to Albert "for supporting Russia's bid to host the winter Olympics in Sochi."
Prince Albert finds new best buddy in Putin
Published: 21 September 2008
RUSSIAN officials sent a team of builders to Monaco to erect a three-bedroom "dacha" in Prince Albert's garden earlier this year as a sign of the growing friendship between Moscow and the tiny principality on the Riviera, according to sources close to the palace.
The simple wooden building has the function of a pool house at Albert's estate in the hills behind Monte Carlo and reflected growing bonds with Moscow that have helped to turn Monaco, a glamorous tax haven, into the favourite playground of Russians.
Albert's spokesman declined to comment but a former adviser saw the dacha as evidence of the warm friendship that has developed between the 50-year-old bachelor prince and Vladimir Putin, 55, the Russian prime minister.
The two spent a week together last summer, fishing and hunting in Siberia, where the Russian leader was photographed posing without his shirt. Albert was given two freshwater seal pups from Lake Baikal.
They met again last month in St Petersburg, when Putin thanked Albert, a member of the International Olympic Committee, for supporting Russia's bid to host the winter Olympics in the Black Sea port of Sochi in 2014.